Chicago Rarities Orchard Project is a non-profit organization founded to establish community rare-fruit orchards in Chicago. These orchards, designed for reclaimed spaces, are dedicated to preserving a few of the thousands of varieties of tree fruit that aren't commonly commercially grown, while providing open space and educational opportunities to Chicagoans.


It'll still be a long time before we're all sitting in the shade, eating apples. In the meantime, we've been working closely with NeighborSpace, the City of Chicago's Department of Housing and Economic Development to acquire our first orchard site.

After a rigorous community process and working with the landscape architecture firm Altamanu, here's a rough sketch of what we have in mind: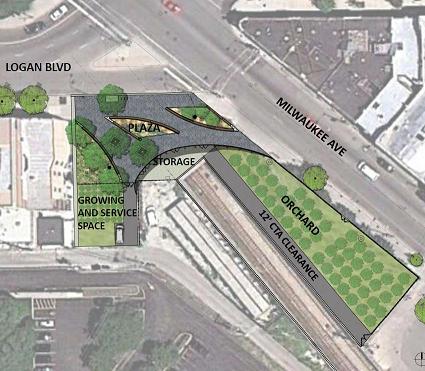 Our design is intended to balance accessibility, careful management, and beautiful garden design. An open landscaped plaza along Logan Boulevard activates the intersection of Logan and Milwaukee. Continuing along Milwaukee, a community managed orchard will be open to the public during volunteer hours throughout the week, through public special events, and programmed in coordination with the Farmer's Market.




It's summer time. Crop is tending to our temporary nursery site and working with the city on breaking ground on our first orchard. Contact us at crop@chicagorarities.org for more details.
What's Happening
We're very excited to announce that we're partnering with Whole Foods Market Chicago for July, August and September on their One Dime At A Time Program. Everytime you bring your own shopping bag to Whole Foods, they'll toss ten cents towards our project. Pretty generous, especially considering that the Lincoln Park, South Loop, Halsted, Lakeview, and Gold Coast locations are all participating!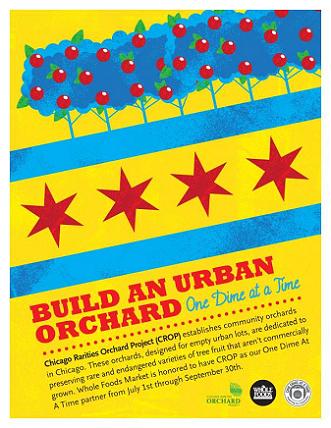 To keep up to date on what CROP's getting into, get on our mailing list!