Project

Chicago Rarities Orchard Project is an organization founded to establish "community rare-fruit orchards" in Chicago. These orchards, designed for reclaimed urban spaces, are dedicated to preserving a few of the thousands of varieties of tree fruit that aren't commonly grown by commercial producers.

Fruit produced from our orchards will, in part, be used to fund the project and also be distributed throughout the community. Additionally, using empty lots for orchards provides democratic improvements to Chicago, such as creating beautiful open spaces for our neighbors and educational opportunities for our children.

Logan and Milwaukee
We are currently working with NeighborSpace, the City of Chicago, and the landscape architecture firm Altamanu to develop our first orchard at an empty lot on the corner of Logan and Milwaukee.

Part of the 2004 Logan Square Open Space Plan, these lots were earmarked to be a plaza and serve as a farmer's market location catering to transit users and local residents. However, the successful Logan Square Farmer's Market has outgrown this space and CROP is perfectly positioned to steward this space, with the help of NeighborSpace.

To combine open space with growing space, we've developed a site plan that balances accessibility, careful management, and beautiful garden design. An open landscaped plaza along Logan Boulevard activates the intersection of Logan and Milwaukee. Continuing along Milwaukee, a community managed orchard will be open to the public during volunteer hours throughout the week, through public special events, and programmed in coordination with the Farmer's Market.

Logan Square
By locating our project in Logan Square, CROP aims to serve the neighborhood directly. Indeed, we already have roots in the neighborhood. Most of our volunteer staff lives in Logan Square. We've received enthusiastic support from neighbors and neighboring businesses.

We will work with the Logan Square Chamber of Commerce, Logan Square Neighborhood Association, Logan Square Farmer's Market, and work directly with neighborhood schools, businesses, and organizations to get our apples into the hands of our neighbors.

Going Forward
Although Logan Square will be our first site, CROP has already developed their organization with long-term sustainability in mind. We have 60 trees planted (temporarily planted in East Garfield Park) representing 35 varieties, which will comprise the initial group of trees for the lot. We have also developed relationships with several local organizations with interest in urban agriculture and civic open space. If you or your organization would like to create a connection, please don't hesitate to contact us: [email protected]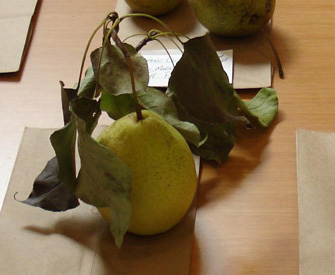 A Yali pear, at the Midwest Fruit Explorer Harvest Festival. Photo by Erin Foley.